30-01-2023

Supercross News

GILBERT TAKES MAIN EVENT WIN IN ABERDEEN
The British Arenacross Championship witnessed one of the closest-fought Pro class Main Events of the 2023 series as Crendon Fastrack Honda rider, Josh Gilbert powered to his first Arenacross Main Event win ahead of teammate Conrad Mewse at the sold-out P&J Live Arena in Aberdeen.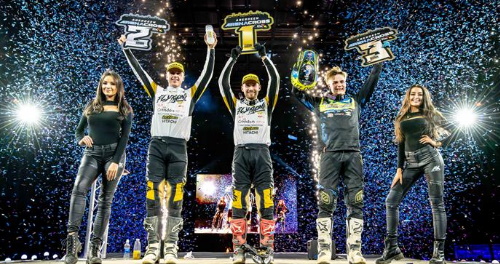 Round four ended with a new championship leader in the form of Crendon Fastrack Honda Racing's Conrad Mewse who now carries a one-point advantage over GTCi Revo Kawasaki's Tommy Searle. The championship charges towards the fifth round of the series at The Resort World Arena, Birmingham, next Saturday, the 4th of February.

Crendon Fastrack Honda Racing also extends its British Arenacross Championship Team lead, thanks to Josh Gilbert's epic Main Event win in front of an enthusiastic Aberdeen crowd.

Mewse was fastest in this morning's qualifying with a time of 30.567, for which he collected an additional point. The top qualifier from the four Pro heat races was Jack Brunell, he also earned an extra point. The third 'spot award point' was picked up by Mel Pocock for muscling his way through to the head-to-head win.

Sadly, Jake Nicholls and Shaun Simpson crashed out in the second heat and were unable to continue.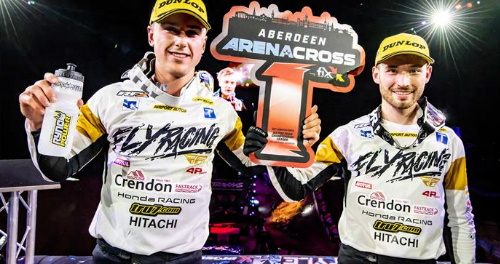 During the evening, Elliott Banks-Browne secured his place in the Main Event by winning the Last Chance Qualifier, while Martin Barr proved to be a favourite with Arenacross fans by collecting the people's vote.

Results Main Event
1. Josh Gilbert, Crendon FastTrack Honda Racing, 15 points
2. Conrad Mewse, Crendon FastTrack Honda Racing, 13 points
3. Jack Brunell, Troy Lee Designs GASGAS, 11 points
4. Elliott Banks-Browne, Mark McCann 64 YouTube Channel, 10 points
5. Tommy Searle, GTCi Revo Kawasaki, 9 points
6. Joe Clayton, Mark McCann 64 YouTube Channel, 8 points
7. Adam Chatfield, FUS Geartec Husqvarna, 7 points
8. Martin Barr, Apico Factory Racing, 6 points
9. Jayden Ashwell, 5 points
10. Mel Pocock, CTCi Revo Kawasaki, 4 points

Overall individual and team championship results to follow.

Full results are available on MyLaps Speedhive >Arenacrossuk

The 2023 Arenacross Tour presented by Fix Auto UK now heads south to The Resorts World Arena, Birmingham, NEC next Saturday the 4th of February for the fifth round of the British Arenacross Championship. Doors open at 4pm with the pit open to the public for a 7.30pm show start.

Tickets are available via www.arenacrossuk.com