29-01-2023

Supercross News

ARENACROSS PACKS THEM IN AT P&J LIVE ABERDEEN
British Motocross Champions Tommy Searle (GTCi Revo Kawasaki) and Conrad Mewse (Crendon Fastrack Honda Racing) treated the full house at the P&J Live Arena, Aberdeen, to a motocross racing masterclass this evening for the third round of the British Arenacross Championship.

Searle, the reigning British MX1 champ, took a start-to-finish victory ahead of MX2 champ Mewse who had battled with Arenacross specialist Jack Brunell until making a pass stick at two thirds race distance. Searle looked comfortable on the challenging track and Mewse on a good pace in second. Brunell, still carrying injury from Belfast, finished a creditable third.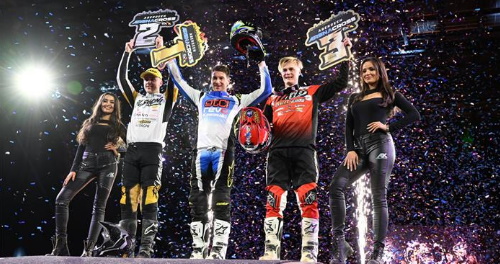 Earlier in the evening, the head-to-head eliminator was won in convincing style by Adam Chatfield, while Irishman Jason Meara held it to the line ahead of Mel Pocock in the Last Chance Qualifier. AJP Geartec Racing Team's Jayden Ashwell secured the people's vote to take the last spot on the Main Event start line.

Results Main Event
1. Tommy Searle, GTCi Revo Kawasaki, 15 points
2. Conrad Mewse, Crendon FastTrack Honda Racing, 13 points
3. Jack Brunell, Troy Lee Designs GASGAS, 11 points
4. Joe Clayton, Mark McCann 64 YouTube Channel, 10 points
5. Elliott Banks-Browne, Mark McCann 64 YouTube Channel, 9 points
6. Shaun Simpson, Gabriel KTM, 8 points
7. Josh Gilbert, Crendon FastTrack Honda Racing, 7 points
8. Adam Chatfield, FU Geartec Husqvarna, 6 points
9. Matt Bayliss, Darjen Kawasaki, 5 points
10. Jason Meara, All Moto Yamaha powered by Start Solar, 4 points

Overall individual and team championship results to follow.

The 2023 Arenacross Tour presented by Fix Auto UK returns to P&J Live tomorrow, Sunday, the 29th of January. Doors open to the public at 2pm for pit access and VIP Track Walk. The matinee Show starts at 4.30pm.
Live streaming, via YouTube, will run 15 minutes before the show opens