29-01-2023

Supercross News

SEARLE EXTENDS ARENACROSS CHAMPIONSHIP LEAD
GTCi Revo Kawasaki's Tommy Searle extended his 2023 Arenacross British Championship lead after winning round 3 in convincing style at the P&J Live Arena, Aberdeen.

He holds a four-point lead over Conrad Mewse, Crendon Fastrack Honda Racing, while team-mate Josh Gilbert is in third. The consistency of Mewse and Gilbert stretched their Crendon Fastrack Honda Racing team's championship lead to 69 points, 14 points ahead of GTCi Revo Kawasaki, with the Mark McCann 64 YouTube Channel pairing of Joe Clayton and Elliott Banks-Browne taking the third team position.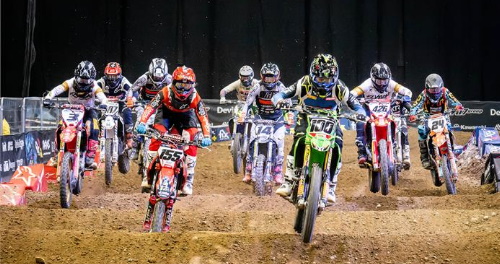 Arenacross British Pro Championship after 3 rounds:
1. Tommy Searle, GTCi Revo Kawasaki, 46 points.
2. Conrad Mewse, Crendon Fastrack Honda Racing, 42 points.
3. Josh Gilbert, Crendon Fastrack Honda Racing, 27 points.
4. Jack Brunell, Troy Lee Designs GASGAS, 23 points.
5. Adam Chatfield, FUS Geartec Husqvarna, 23 points.
6. Elliott Banks-Browne, Mark McCann 64 YouTube Channel, 19 points.
7. Matt Bayliss, Darjen Kawasaki, 18 points.
8. Joe Clayton, Mark McCann 64 YouTube Channel 17 points.
9. Jason Meara, All Moto Yamaha powered by Start Solar, 10 points.
10. Martin Barr, Apico Factory Racing, 10 points.

Arenacross British Teams Championship after 3 rounds:
1. Crendon Fastrack Honda Racing, 69 points.
2. GTCi Revo Kawasaki, 55 points.
3. Mark McCann 64 YouTube Channel, 36 points.
4. Darjen Kawasaki, 23 points.
5. FUS Geartec Husqvarna, 23 points.
6. All Moto Yamaha powered by Start Solar, 16 points.
7. AJP Geartec Racing Team, 12 points.
8. Apico Factory Racing, 10 points.
9. Tru7 Honda, 9 points.
10. Gabriel KTM, 8 points.

Full results are available HERE. https://speedhive.mylaps.com/Events/2096473
Watch round 4 of the British Arenacross Championship on Live Stream