16-01-2023

Supercross News

JOSH GILBERT – THE DARK HORSE OF ARENACROSS?
The 2023 Arenacross Tour presented by Fix Auto UK is just a few days away from opening to what is set to be a sell-out across both nights of the first two rounds at The SSE Arena, Belfast on Friday the 20th and Saturday the 21st of January 2023.

As the race series and all-round spectacular family entertainment show steadies itself for the 2023 action-packed six-round Tour, there's a popular belief that, when it comes to Arenacross, anything can happen, and probably will.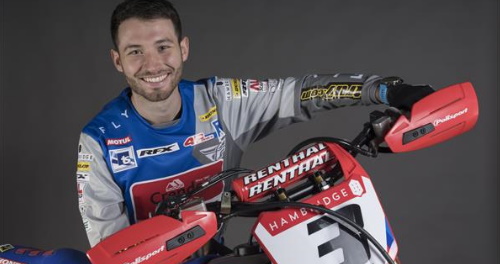 Whenever you place 12 glory-obsessed professional motocross racers who are all armed with incredibly-powerful high-tech machines with mind-blowing power-to-weight ratios on a tight, twisty and technical dirt track, you've got all the ingredients for gladiatorial-style adrenaline-fuelled drama, athletic brilliance and chaotic carnage all in equal measure. Chuck in huge amounts of prize money and an official ACU British title too and things get even wilder.

There can only be one winner but the nature of the sport means that quite often nobody knows who that will be until the chequered flag is unfurled. There's no other sport like it on this planet …

While the end goal for all true racers is the same, the racers themselves are all very different characters with no two being alike.

To earn a spot on the Arenacross Tour, all the riders have shown that they're more than capable of walking the walk. However, not all are so comfortable with talking the talk and instead of being brash and bold off their bikes prefer to let their track results take care of all the communication.

Crendon Fastrack Honda's Josh Gilbert is definitely in the latter group and although he's won plenty of races and championships at national level, isn't willing to let his mouth run away and make outlandish claims about his Arenacross chances – a genre of the sport where he's considered to be a rookie.

That's not to say he's not in with a chance of winning AX Main Events and making a run for the championship – he just won't tell you that he is, even though some of the other title candidates have already confirmed his status as a contender …

"It would be nice to win but I haven't actually got a clue how I'm going to do because I haven't ever done anything like Arenacross since I was a little kid on a 65," admits Josh with far too much honesty punctuated by a little laugh. Now aged 25, it's over a decade and a half since the Cornishman last raced indoors so how did it all come about now?

"My team boss Dave Thorpe came to myself and my teammate Conrad Mewse with the idea of doing this and since I fancied doing something a bit different and so, here we are.

"I was a bit unsure at first but I really liked the fact that the series promoter Matt Bates made guaranteed that it was only open to British riders this year. All the front runners on the British scene are doing it and it means that we now get to mix things up a bit with a few indoor races before the more traditional outdoor action gets underway."

To prepare for the series that starts in Belfast, Conrad and the entire Crendon Fastrack Honda team headed over to Spain to ensure that their equipment was on-point and the riders were fully dialled in ready for the task ahead.

"Riding in Spain with Conrad has been going really well," expressed Josh between sessions in the sun. "We're pushing each other hard and at the moment we're very similar on pace and we're getting quite competitive with each other. The plan is to return to the UK and do a little bit of riding there before we head across to Belfast for the first round."

But when pushed for a pre-series prediction, Josh continued to hold tight. "The plan is to go to the races and just enjoy it," was all he would offer before eventually adding, "but hopefully I will get a good result."

The 2023 Arenacross Tour:
Round 1: Friday 20th January – SSE Arena, Belfast, Northern Ireland
Round 2: Saturday 21st January – SSE Arena, Belfast, Northern Ireland
Round 3: Saturday 28th January – P&J Live, Aberdeen, Scotland
Round 4: Sunday 29th January – P&J Live, Aberdeen, Scotland
Round 5: Saturday 4th February – The Resorts World Arena, Birmingham NEC, England
Round 6: Saturday 18th February – The OVO Arena, Wembley, England