09-01-2023

Supercross News

BRITISH MX CHAMPIONS GO HEAD-TO-HEAD AT ARENACROSS
When the start gate inside Belfast's iconic SSE Arena drops for the opening round of the 2023 Arenacross Tour on Friday, the 20th of January, it will be a moment to savour as for the first time in the championship's illustrious history, an official ACU British Arenacross title will be up for grabs. And

This official recognition by the sport's governing body has enticed the nation's very fastest motocross racers to line up and attempt to clinch the crown (along with the huge prize fund that comes with it …) including the reigning MX1 champion Tommy Searle and his MX2 counterpart Conrad Mewse.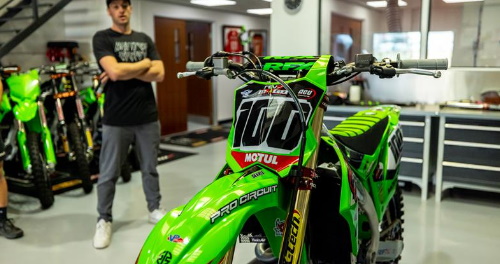 For 33-year-old Searle, who'll be representing GTCI Revo Kawasaki in 2023, this means a return to the green machines on which he built the solid foundations of his highly successful career. Having been forced to stay away from the Arenacross series in previous years, he's excited to finally be able to commit to the championship in 2023.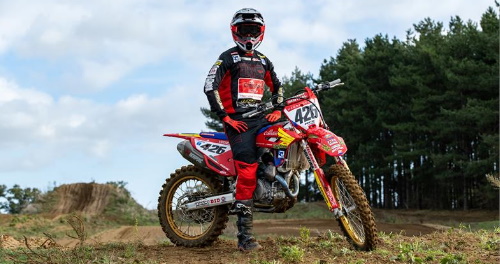 "I'm really keen for it all to begin and I'm really happy that so many top British riders are getting behind the Arenacross series this year," says Searle. "I think it's something that the sport in the UK needs and Arenacross is a great opportunity for riders of all ages to go racing at a time of year when many people traditionally disappear to Spain for three months and become practice track heroes.

"Some of my most memorable moments of being a young racer are from riding in Arenacross events. There's really no other feeling like racing inside a packed arena in front of all those fans on the same track as the pro riders – the guys you look up to and want to be like.

"It was an amazing experience back then and years later, now that I'm a pro racer, the thought of it is equally as exciting to me – I'm just so keen to get over to Belfast and get the racing started," enthuses the four-time MX1 British Champion.

"If I'm in it I want to win it but it's anyone's race really and that's, what makes it so exciting. The starts will be critical as the tracks are tight so really there are around five or six guys that could win a round and there will be some great racing for the fans. It's wide open and that adds a lot of excitement to the whole thing."

Mewse, who at 23 years old is a decade younger than Searle, made the move to the Crendon Fastrack Honda team in the off-season. As well as changing teams, Mewse will also move up to the premier 450cc class full-time in 2023 where he'll race Japanese-built machinery – and Arenacross – for the first time in his career. That's a whole lot of change but the Somerset native is up for the challenge.

"It's my first time racing the Arenacross series – the last time I raced indoors was on a 65 and everything seemed so big back then," claims Conrad. "I'm sure it all won't seem quite so big now I'm on a 450 and I'm actually really excited to do it because it's a new challenge for me. It's going to be pretty cool racing indoors with all the fans and it will be great to start off the year with some really intense racing – I can't wait!"

To prepare for the series, Mewse and the entire Crendon Fastrack Honda team headed to sunnier climes – in this case, Spain – for some intense testing and training.

"It's about 18 degrees so it's much warmer and brighter than it has been back at home," admits the three-time British MX2 champ. "I honestly felt right at home on the Honda straight away as it's a fantastic bike – it just handles and turns so much better than what I was riding before. But the best part is that the team have done a great job making it even better. I'm really comfortable on the bike and I'm just excited to go racing. We've still got a couple of weeks of preparation before the Arenacross season gets underway so we'll definitely be ready when the gate drops."

Does that mean Conrad is ready to add another British title to the collection? Although obviously brimming with confidence he's keeping his cards close to his chest.

"My goal in every race I compete in is to win but we've also got to be sensible. It's not a long series but it's still six rounds across four weekends so there's plenty of racing to be done and while it can't be won at the opening round it can certainly be lost. My goal is to go in and relax, ride like my normal self and take what I've been practising into the races. If I can do that then I'll be up there for sure."

With an entirely British roster of racers and an official ACU British Championship title up for grabs, the 2023 Arenacross Tour promises to be the most intensely fought-for yet.

The 2023 Arenacross Tour:
Round 1: Friday 20th January – SSE Arena, Belfast, Northern Ireland
Round 2: Saturday 21st January – SSE Arena, Belfast, Northern Ireland
Round 3: Saturday 28th January – P&J Live, Aberdeen, Scotland
Round 4: Sunday 29th January – P&J Live, Aberdeen, Scotland
Round 5: Saturday 4th February – The Resorts World Arena, Birmingham NEC, England
Round 6: Saturday 18th February – The OVO Arena, Wembley, England

Visit www.arenacrossuk.com for more Arenacross news and information on how to book tickets.