28-04-2022

International News

Scott Smulders fourth in Gemert and second in Marum
Scott Smulders of the Husqvarna SKS Racing NL team has ridden two rounds of the Dutch Championship 250 in the last three days. In Gemert he finished fourth overall and today at Marum he took a spot on the podium with second overall.
In Gemert he started his day with the fifth fastest time in practice. Because this wasn't a completely free lap with several yellow flag situations, he knew that it good have been a little better.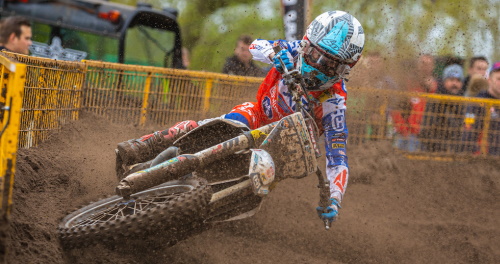 The first moto started with a setback for Scott because he stalled his bike in the first corner and had to come back through the field. He worked his way back up to fourth but crashed. Because he only had three laps after the crash he had little time to pass the riders in front of him but he still managed to finish the race in fifth position.
Scott was motivated to do better in the second moto. This time he started the race in seventh position. In the first two laps he was struggling to find his rhythm but in the rest of the race it went well. He worked himself up into second position and started to close down the gap to the leader but unfortunately he crashed in the final lap and finally finished in a disappointed fifth position again which gave him fourth position overall.
With fresh motivation he travelled to Marum on Wednesday for the next round of the championship. In time practice he set the fourth fastest time and was ready to go in the races.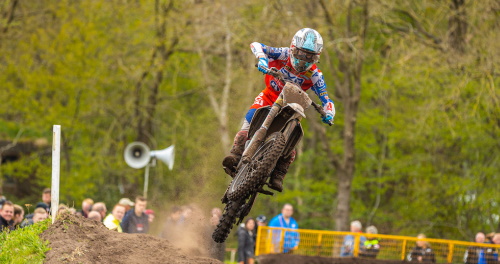 In the first moto he took a good start and came out of the first turn in fifth position. He worked his way up to second but at that moment the leader was already gone. He started to close down the gap but ran out of time and finished in second position.
In the second moto he started in second position. In the beginning he lost some time on the leader but in the next laps he came closer to the leader. He wasn't able to make a pass stick and finished in second position again.
With a second position in both motos he finished second overall as well.
Scott Smulders: ''My riding went well in the motos and in every race we book progress so that's something I'm happy about. Now we will focus ourselves on Harfsen.''
This weekend the third round of the Dutch Masters of Motocross will be held in Harfsen.
Fotos: Kaj de Wilt