23-05-2022

International News

Isak Gifting sweeps MXGB at Canada Heights!
Returning to domestic duty after a successful string of Grand Prix rounds, Hitachi KTM fuelled by Milwaukee tackled the fourth round of the ACU British Championship at Canada Heights today. Countless fans travelled to the popular circuit and watched our KTM 250 SX-F duo, Isak Gifting and Kay Karssemakers, claim trophies in the MX2 division.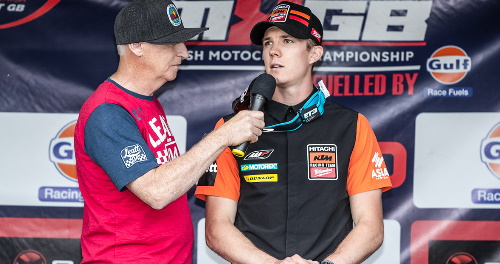 It was a near-perfect day for Gifting aboard his 'orange' steed – he stormed to two convincing victories and led all but a couple of laps. It was a true exercise in dominance and his maiden victory on British soil. Thirty-eight seconds was his margin of victory in the first stint and then he romped to a twenty-seven second gap in the second stint. Crucially, the clean sweep at Canada Heights catapulted him back to the very top of the championship standings. The momentum gained will serve him rather well as he continues to chase a Grand Prix podium in the coming weeks.
For Kay Karssemakers, the fourth round of the MXGB series provided him with an opportunity to gather a lot more race time aboard his KTM 250 SX-F and continue to build in his return from injury. A 3-3 scorecard helped him take yet another trophy too; he was ranked in third overall at the end of the day. Karssemakers' charge into that spot from outside of the top ten in moto one was particularly noteworthy, as he made swift work of those around him.

Hitachi KTM fuelled by Milwaukee will travel south now. The Grand Prix of Spain will host the ninth stop of the 2022 FIM Motocross World Championship this coming weekend.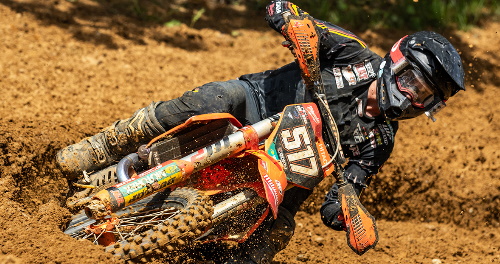 Isak Gifting: "Canada Heights was great for me! I enjoyed the track and went 1-1. It was great training for this weekend's MXGP of Spain. I took control of the red plate today as well; I was very happy to do that for the Hitachi KTM fuelled by Milwaukee team."

Kay Karssemakers: "I had a bad start in the first moto, because someone crashed in front of me, but I made my way to third and actually got closer to second place towards the end. The riding was good in that moto! I got a better start in the second race, but I lost my rhythm a little bit and had to settle for third. It was an okay day!"

Roger Magee (Hitachi KTM fuelled by Milwaukee Team Manager): "On yet another new track for both Isak and Kay, the results today were just what we needed to get back into contention for the 2022 MX2 British Championship. With both Isak and Kay on the overall podium in P1 and P3 respectively, and Isak regaining the red plate again, it was a really good day at the 'office' and is testament to the hard work by both riders and all of the team personnel, who always put in the long hours and hard work to make it all happen. Cole McCullough had a real learning day and had a few small crashes, which dented his overall points tally, but he will learn from today and come back stronger. I want to dedicate this win today to my Dad who is going through some tough health times at the moment and is showing real determination to fight against the odds."