11-07-2022

International News

3-3 scores for Kay Karssemakers at FatCat
Hot on the heels of a successful outing in Indonesia, Hitachi KTM fuelled by Milwaukee returned to domestic duty at today's round of the 2022 ACU British Championship. Kay Karssemakers was the team's sole representative in the MX2 division, as Isak Gifting is recovering from a knee injury that he sustained in June.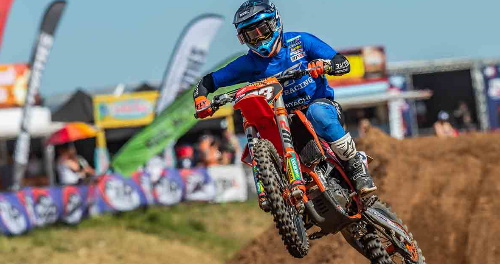 The power within Karssemakers' KTM 250 SX-F was evident for all to see at FatCat, the sand venue that hosted round six of the domestic series, as he ripped to two commanding holeshots. '33' led the field for four laps before arm pump forced him to settle for third in the moto. The second moto was even stronger than the first. Karssemakers engaged in a rather entertaining tussle for the lead and posted some incredibly impressive lap times; it was yet another indication of his incredible potential. Unfortunately, overjumping an obstacle caused him to slow with a tweaked back and he ultimately settled for third again. A 3-3 scorecard put him in third overall on the day.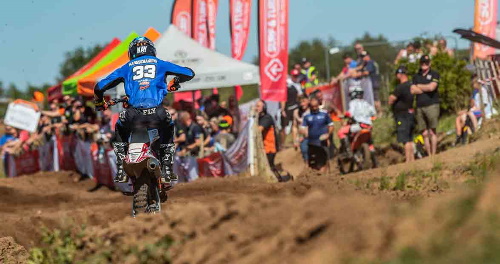 In the 125cc class, rising star Cole McCullough continued to learn with support from the Hitachi KTM fuelled by Milwaukee team. 5-2-2-3 scores put him in second overall on the weekend. Valuable momentum was gained that will serve him well in the future.

Hitachi KTM fuelled by Milwaukee will swap the deep sand for slick hard pack now, as the next round of the 2022 FIM Motocross World Championship will be run at the old-school circuit of Loket in the Czech Republic on July 17.

Kay Karssemakers: "I got the holeshot and led the first four laps in the first moto, but I got massive arm pump and finished third. I got another holeshot in the second moto and had a good battle for the lead with Conrad [Mewse]. I was pulling away a little bit with some very good lap times, but then I jumped too far on a jump and hurt my back. I did not push so much after that and finished in third again, which put me in third overall. Two good starts and there were moments in each moto that were very good. I will take the positives to the next race and try to get better."