08-06-2021

International News

Mewse extends series lead at Canada Heights | Hitachi KTM fuelled by Milwaukee
Hitachi KTM fuelled by Milwaukee tackled the third round of the ACU British Championship yesterday – the event was run at the historic track of Canada Heights in Kent. With just one week to go before the 2021 FIM Motocross World Championship fires into life, the event was a brilliant chance to race in front of British fans before international duty begins and also make progress in the bid to claim both professional titles.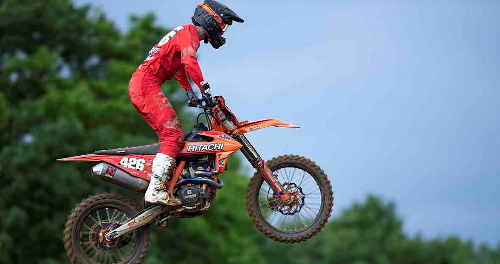 Conrad Mewse felt very under the weather entering round three, but still went on to take fifth in MX2 time practice. That did not translate to a good start in moto one though, as he found himself on the cusp of the top ten at the end of lap one. Not to be deterred, and despite not feeling quite at his best, he fought on to take sixth. The second moto was much kinder to him; he quickly moved into the lead and even a mistake at the halfway point could not derail his charge. Mewse won the moto by seven seconds and set a lap time that was three seconds faster than anyone else on track. Third was the spot that he occupied in the overall classification and, most importantly, he extended his advantage in the championship to 41.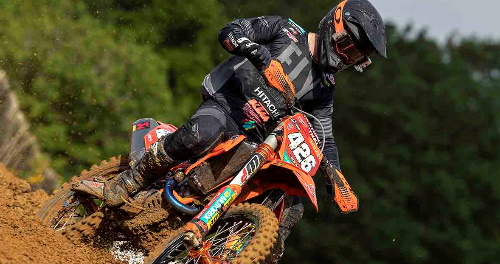 Adam Sterry had a positive start in the MX1 division, as he set the second-fastest time in qualifying. A crash on lap one of moto one left him with the mountainous task of salvaging as many points as possible, but he did that well and stormed into eighth to claim a solid haul of points. A stronger start in moto two put Sterry inside of the top ten and he picked off multiple riders from there to take fourth at the chequered flag. That result left him in sixth in the overall classification – he now sits fourth in the premier-class standings, just 18 points down on the red-plate holder with five events still to run.
Hitachi KTM fuelled by Milwaukee will now venture outside of the United Kingdom, as round one of the 2021 FIM Motocross World Championship will take place in Russia on Sunday (June 13). The Grand Prix of Russia marks round one of a 20-round series that will include visits to 16 different countries.
Conrad Mewse: "I had to dig deep today. I was sick all week and came into this race really flat. Today was one of my bad days, but I capitalised in moto two and was pleased to extend my championship lead. Looking forward to the start of the MXGP series now!"
Adam Sterry: "Frustrating day for me. Going down on the start in moto one and then not having such a good start in moto two made it a difficult day. Track was very hard to pass on, so I needed to get the starts to put myself in a better position. We are going to test on Tuesday and then see what we can improve on for Russia."
Roger Magee (Hitachi KTM fuelled by Milwaukee Team Owner): "It was a mixed day for the team at Canada Heights, but we were not alone as there were some surprising results from other riders and teams – on the balance of things they totally deserved their placing and it has made the 2021 British Championship even more interesting.
"Conrad had been feeling a bit under the weather over the past few days and a poor start and the initial intensity wasn't there in MX2 moto one, where he only elevated himself from P9 to P6 at the chequered flag. He redeemed himself somewhat in moto two, taking the lead, only to lose it for a few laps after a mistake but still eventually brought it home for the win and an overall podium finish. He has also extended his overall championship lead to 41 points.
"Adam showed good speed in qualifying with P2, but was unfortunate to get taken out in turn one and fought back to a solid P8 at the finish. In moto two he had a reasonable start but sat behind riders too long in the early stages of the race, improving to P4 at the flag keeping well in contention for the overall MX1 championship. The team now flies out to Russia on Wednesday for the first MXGP in 2021 at the hard-pack circuit of Orlyonok."