07-02-2022

International News

Scott Smulders Builds Race Rhythm During French International
Scott Smulders of the Husqvarna SKS Racing NL team has his first race of the 2022 season in the bag. Smulders was in action at the international race in Lacapelle Marival, France, and gained a lot of race rhythm.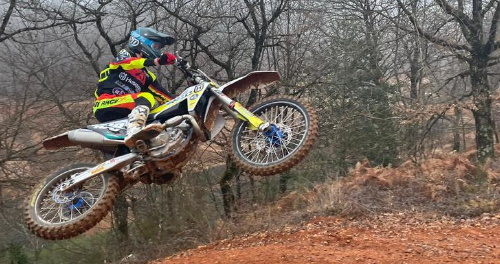 The race marked Scott's first race among the big boys of the MX2 class. "I had some troubles during training on the wet track that had a lot of deep ruts," he said. "I also battled with starts in both races, sliding out on the start grid in both heats. I rode my own races from there" he said.
Scott recovered to 16th spot in the first race. His riding was still not what he wanted, and he was keen to improve in the second heat. He improved to 15th, but a crash dropped him to 17th, leaving him just one position shy of being able to participate in the superfinal race. He finished 18th overall for the day.
"It was a difficult race for me, but I learned a lot, and we can work from that," he remarked. "I know that I can do much better, and fortunately those around me realize that as well. We are keen for the next race outing."
Overall international race Lacapelle Marival:
1 Kay de Wolf 50 Pnt
2 Roan van de Moosdijk 44 Pnt
3 Kevin Horgmo 38 Pnt
4 Stephen Rubini 32 Pnt
5 Tom Vialle 31 Pnt
18 Scott Smulders 9 Pnt