Kay Karssemakers of the Husqvarna SKS Racing NL team narrowly missed a podium during the fourth round of the EMX125 European championships at Lacapelle Marival in France. He did score enough points though to elevate him to second in the championship standings.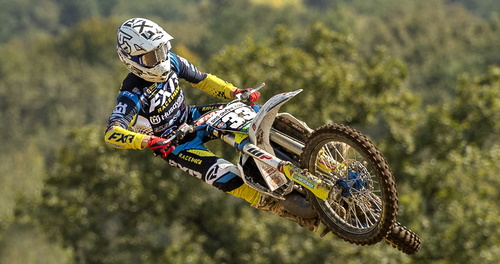 The team's race day started in minor key, since Cas Valk was battling a hefty throat infection. He tried to go out in free training, but the constant coughing and dangerously high heartbeat prompted him to sit the round out. Team mate Karssemakers quickly got to terms with the track, and posted the fourth fastest qualifying time. This was an important kick-off, since a good start is important on this track which is technical and hard to pass on.
Karssemakers did not launch well in the first race. "I hit the start gate, which held me back, but I made up for it through the first turn, and was into seventh place. I quickly moved up to fifth, and then towards the end of the race gained another spot to finish fourth," he said.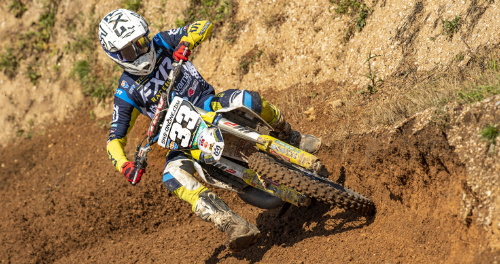 Kay dropped off the gate well in the second race, but this time another rider forced him wide in the first turn. He was in eighth position, and again quickly moved up to fifth. He quickly moved up to third, but a crash cost him two spots, and he finished fifth.
Kay finished fourth overall, just missing the podium. He has moved up to second in the championship standings. The series continues next weekend in Spain.
Lynn Valk managed to secure the Open Dutch Women's title at Westerbork on Sunday. Valk won the first heat and finished second in the other, which was good enough for the overall victory and the title.
Overall EMX125 France:
1 Valerio Lata 44 Pnt
2 Marc Antoine Rossi 39 Pnt
3 Lucas Coenen 36 Pnt
4 Kay Karssemakers 34 Pnt
5 Ferruccio Zanchi 27 Pnt
EMX125 Championship Standings:
1 Valerio Lata 146 Pnt
2 Kay Karssemakers 129 Pnt
3 Bobby Bruce 123 Pnt
4 Ferruccio Zanchi 101 Pnt
5 Hakon Osterhagen 95 Pnt
Fotos: Eric Laurijssen