Another week and another round of international competition for Monster Energy Yamaha Factory MXGP. Glenn Coldenhoff, Jeremy Seewer and Ben Watson descended on the old-school track of Lacapelle-Marival for the twelfth round of the 2021 FIM Motocross World Championship. Officially dubbed the Grand Prix of France, the sleepy village of Lacapelle-Marival had never hosted a round of MXGP.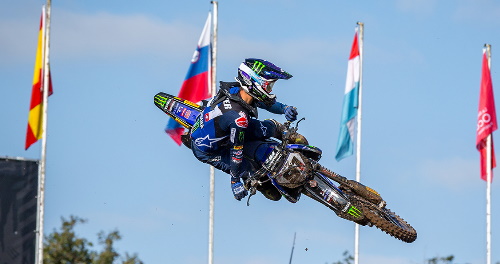 The health issues that have hindered Jeremy Seewer since the beginning of the term are becoming less of an issue now, as he is making evident progress that is clear for everyone to see. Seewer showed flashes of his true speed at Lacapelle-Marival, starting with the third-quickest time in qualifying. The same result was secured in the first moto; he started in second and never fell outside of the top three. Finishing third set him up for a positive overall result too.

Another good start in the second moto – making the most of the power in his YZ450FM – put Seewer inside of the top four early on, but a couple of unfortunate moves from his competitors meant that he completed the first lap in sixth. The action in the stint was both fast and furious, as Seewer shadowed his rivals. Sixth was where he eventually finished, which left him in fourth in the overall classification. Sixth is the spot that he occupies in the championship standings too, but just 43 points separate him from the top five.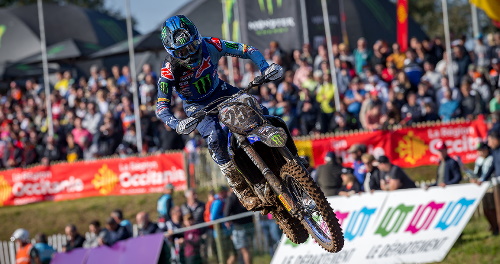 Like his teammate, Glenn Coldenhoff had a positive time of it in qualifying en route to the eighth-fastest time. That did not translate to the first moto at all, unfortunately, as an incident on the opening lap meant that he had to fight from outside of the points. Thirteenth was the furthest he could progress on the narrow layout. Moto two was a more pleasant experience; Coldenhoff started tenth and finished eighth. Eighth is where he was ranked in the overall classification too – he sits in that spot in the championship standings too.

Ben Watson had a difficult day, thanks in part to a tricky qualifying session that left him with a poor pick of the gates. Watson started from the twenty-third gate and could only salvage a nineteenth in the first moto. A crash left him with a painful ankle in the second moto, yet he bravely powered on to salvage one valuable point. Twenty-second is where he was ranked in the overall classification, but he sits eleventh in the series.

Monster Energy Yamaha Factory MXGP will focus on the upcoming Grand Prix of Spain now, which will held at intu Xanadú - Arroyomolinos this coming weekend. The track first appeared on the FIM Motocross World Championship calendar last year.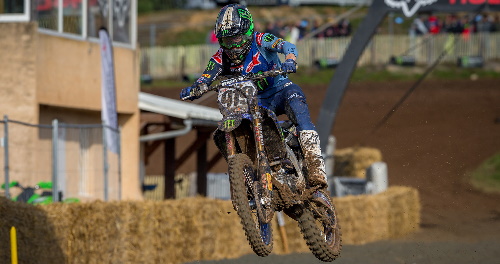 Jeremy Seewer: "I was quite close to a podium. I had two really good starts, but I had Jeffrey [Herlings] come into my line going onto a scary straight. I ended up losing some spots to the freight train behind me, so that was a bit unlucky. Overall, P3 in moto one was a massive comeback. I had two good starts and a good time practice. To sum it up, it was one of my best GPs of the whole year. I am starting to enjoy it again. I had a lot of fun riding my bike today. I am on my way up. I still have energy, and I feel like I am becoming more fresh. There are still plenty of GPs left and I just want to keep moving up and hopefully be back on the podium soon."

Glenn Coldenhoff: "I felt pretty good this morning. The times were really close in time practice and I was eighth, which was still good for the start position. In the first race, I got a really good start. There was a bit a of chaos in front of me with riders changing lines though, then I hit a kicker and went down while in fifth position. It's very difficult to come through the pack on a track like this, especially with the times so close to each other. I wasn't really feeling it in the second race. I stayed way too long behind the riders in front of me. I found some better lines in the end, but only finished eighth. 13-8 are disappointing results. We will work towards Spain."

Ben Watson: "I had a really bad day today. I felt terrible all day, starting from qualifying. That blocked me. I got a good start in race one but was bumped off the track. It was just a battle from the back of the pack, which I couldn't do anything to get to a decent position. In the second one, I changed a few things on the bike and went completely in the wrong direction. I then twisted my ankle too, so I just want to get out of here and regroup for the next one."