The Husqvarna SKS Racing NL team enjoyed an extremely successful outing during the final round of the ADAC Youngster Cup 125 at Reutlingen. Cas Valk won all three heats ahead of teammate Kay Karssemakers, who finished second in all three heats.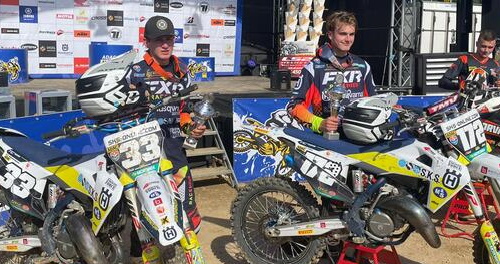 The event marked Cas' return to racing after the injury he had sustained during the EMX125 race in England. He marked his return in style by claiming pole position during qualifying.
Some rain before the first race had turned the track very slippery. Cas started in second, but immediately launched for the lead. He comfortably held the race in hand and celebrated his return to racing with a victory.
The track had dried by Sunday, and speeds were markedly higher. Cas claimed the holeshot and from then on the outcome was a foregone conclusion. "I rode smoothly and managed to win again," he said. "In the third race , I was fourth off the start, but before long, I had the lead and could open a gap of 13 seconds." An overall victory with a clean sweep made sure that he celebrated his return to racing in style.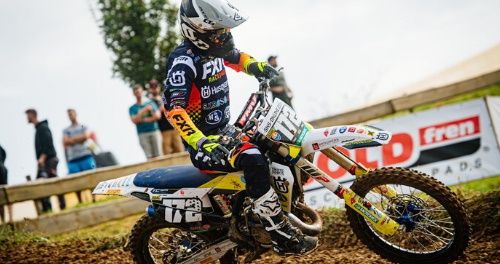 Kay Karssemakers qualified in fifth position, ensuring him of a good start gate. He got the holeshot in the opening race on his Husqvarna TC125, but was passed by his teammate. He rode carefully in the slippery conditions and secured second spot

"I again had a good start in race two," Karssemakers said. "I started in second, and the riding was much smoother. I suffered some armpump and had to drop off a bit, but still managed to finish second."

Kay's third race was a virtual carbon copy of the second. He had a fierce tussle with the leader, but again armpump problems forced him to slack off, and he finished second.

Kay finished second overall. " The team had a great showing here and we are delighted," he said. "We are preparing hard for a busy EMX125 season awaiting us."

Overall ADAC Youngster 125 Cup Reutlingen:
1 Cas Valk 75 Pnt
2 Kay Karssemakers 66 Pnt
3 Bence Pergel 56 Pnt
4 Constantin Piller 53 Pnt

5 Julius Mikula 47 Pnt